The African continent is one of the world's emerging economic regions and has made considerable progress in recent years. Not only locally, but also globally, members of the African diaspora are contributing to this progress through their entrepreneurship. But there are also challenges that need to be overcome. Africa still has high poverty and unemployment, as well as difficult trading conditions, including access to finance and lack of infrastructure. To address these challenges and further drive economic growth in Africa, the continent needs innovative ideas and collaboration across borders.
In a series of events, Jama Nyeta and the University of Cologne create a networking space between African, Afro-Diasporic entrepreneurs, startups and entrepreneurs in Cologne.
We are pleased to welcome Dr. Youssouf Diawara and Abdoulaye Yaro, two West African economic experts, to join us on the panel to share their experiences and knowledge and provide updates on the latest developments in Africa's economy. In addition to them, other interesting keynote speakers from various fields will complement the program, so we are looking forward to an exciting panel discussion with all participants at the climax of the day. Here we will talk about how business networks can serve as a key to Africa's economic development.
The events at a glance:
Saturday, 03 June 14-18 h: large business forum with presentations and panel discussion. Location: Fritz Thyssen Foundation Apostelnkloster 13-15, 50672 Cologne. Please find the program for this event attached. Here, too, we have slightly adjusted the schedule for organizational reasons.
Monday, June 05, 5-8 p.m.: Networking meeting for entrepreneurs and prospective entrepreneurs in the association rooms of Jama Nyeta e.V. at Goebenstraße 10, 50672 Cologne, Germany.
Wednesday, June 07, 5-8 p.m.: Work-Shop Best Practice Examples in the association rooms of Jama Nyeta e.V. in Goebenstraße 10, 50672 Cologne, Germany
Friday, June 9, 5-8 p.m.: Exchange meeting and conclusion for all interested parties in the association rooms of Jama Nyeta e.V. at Goebenstraße 10, 50672 Cologne, Germany.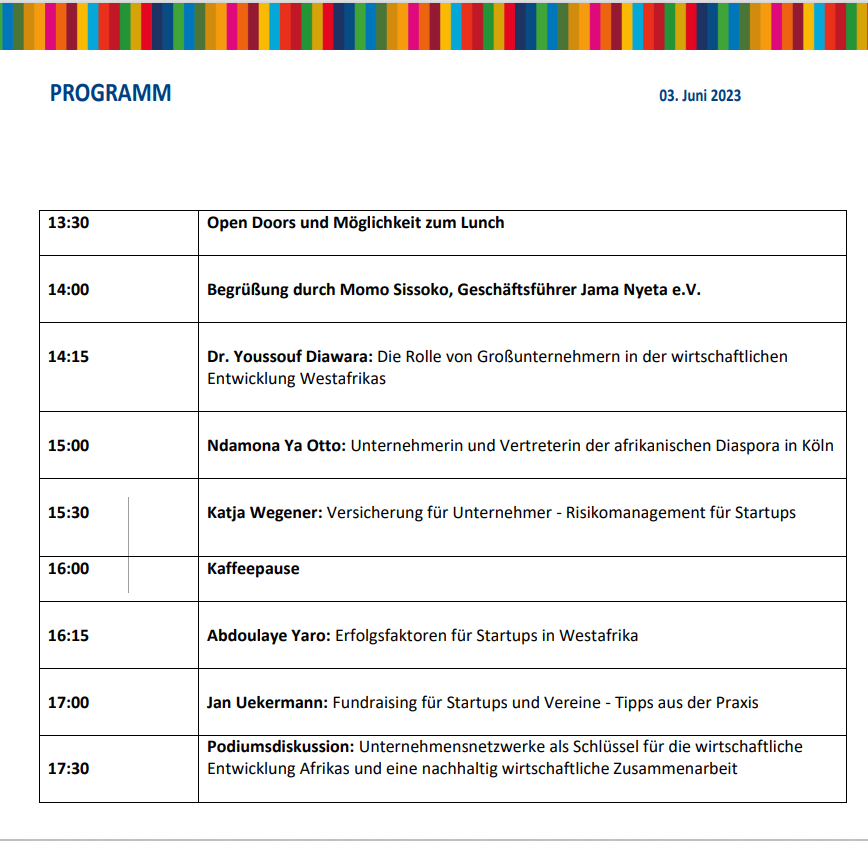 We would like to thank our sponsors, the City of Cologne, the University of Cologne and Aktion Neue Nachbarn for their support.
Partners